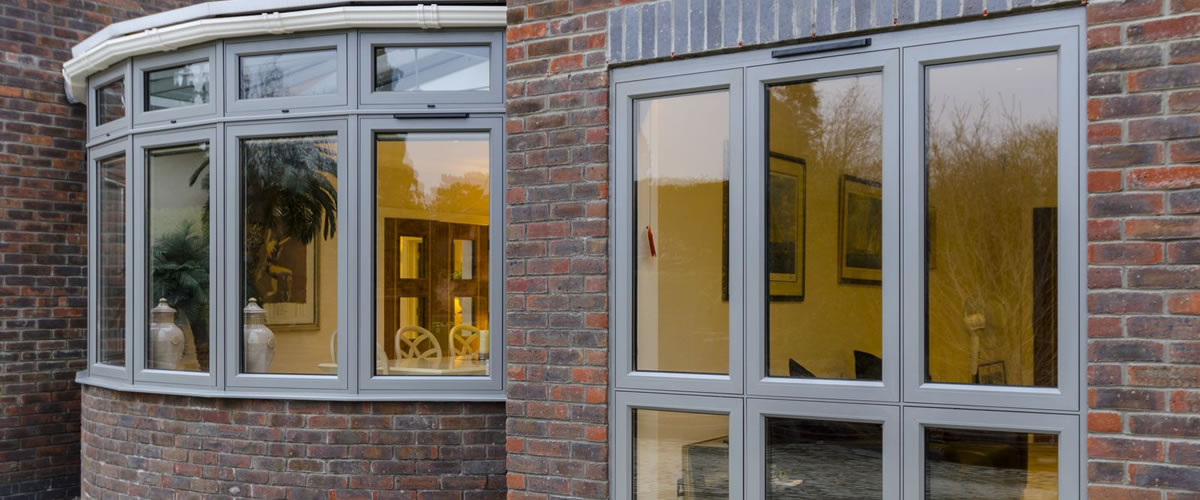 Basfords are you local aluminium window experts. We provide you a wide range of windows to suit any design or property.
Our complete range of aluminium windows is designed to offer you the very best in modern aesthetics, high security and energy saving. We even offer windows should you have old Crittall or metal windows and want to retain the original slim lines of these classic windows of their period.
One of the very latest innovations to enter the market is the Origin Twin Flush window. This is by far one of the most advanced and aesthetically brilliant windows anywhere. If you've not heard of the Origin window before, visit our showroom and take a look. It has a host of features and innovations that you won't find on other aluminium windows. What's more, it's perfect for any type of home.
The Origin Window. There is no other window like it.
Origin Windows are made by Origin who also provide what is one of the finest bifolding doors you can buy today.
Their bifolding doors already offer features that other doors don't, such as a 10 year guarantee, a stunning wood effect finish and clever features such as the colour coded finger safe gaskets.
The innovation that has made Origin the leading bifolding door designers in the UK has been applied to their aluminium window. It's not only designed to complement their outstanding folding doors, but it's excellent as a window in its own right.
The Origin Twin Flush Window offers a design never before seen in aluminium windows. This is a flush casement window where the opening sashes sit within their frame.
For several years already, window designers have provided a flush casement to the outside but were unable to do this on the inside as well. Origin windows can. Even the very latest technology windows from other great names such as AluK or Schuco doesn't offer what the Origin Window does with how the sashes sit in the frame.
Where many windows only come with the sashes overlapping their frame, Origin is unique. It makes for a far better looking window as well. There is no other all aluminium window that offers this unique flush appearance inside and out.
Clever design with exceptional manufacturing provides you with a window that looks like no other. Yet despite the flush arrangement there is zero compromise on security or weather performance.
The Origin window suits any type of property, old or new.
Where many other flush casement windows appear only suitable for traditional properties with old timber windows, Origin windows are both traditional and contemporary in appearance.
You can use them to great effect in the most modern new extension or use them to replace your old timber windows. If you live in a character property you can now benefit from the latest generation aluminium window.
The same industry leading features as the leading folding door.
Basfords are your award winning Origin door installers. The same pioneering features found in our Origin doors are also available on your new windows. The most impressive is the 20 year guarantee you won't find anywhere else.
What better peace of mind knowing that your new Origin aluminium windows are exceptional in their design and features and are built to last.
Other advantages to the Origin Twin Flush Windows.
The Origin Twin Flush Aluminium Window benefits from other advancements too.
Optimum Security.
It's an ultra secure window thanks to the high security locking from Yale. It has the latest Encloser mechanism that offers optimum security.
Another innovation you won't find on other windows is colour matched handles. No other window available offers you handles in the same colour as your frames.
Outstanding Weather & Thermal Performance.
Weather performance is outstanding. Origin windows have obtained a severe weather rating.
Thermal performance is excellent. You can choose from an already energy efficient window or upgrade it further with Aerogel – a space age material with excellent thermal properties.
A choice of colours and finishes – even wood effect.
As well as the huge colour choice available with Origin windows, there is also a stunning wood effect finish. This is unlike any other kind of finishing process that gives you the look and feel of real wood windows in aluminium.
Contact us today for a viewing and further information.
The Origin window gives you the opportunity to improve your home with the finest aluminium window there is in design, performance and long term peace of mind.
Contact us today for a free consultation or visit our showroom and come take a look at this and other latest generation windows and doors.