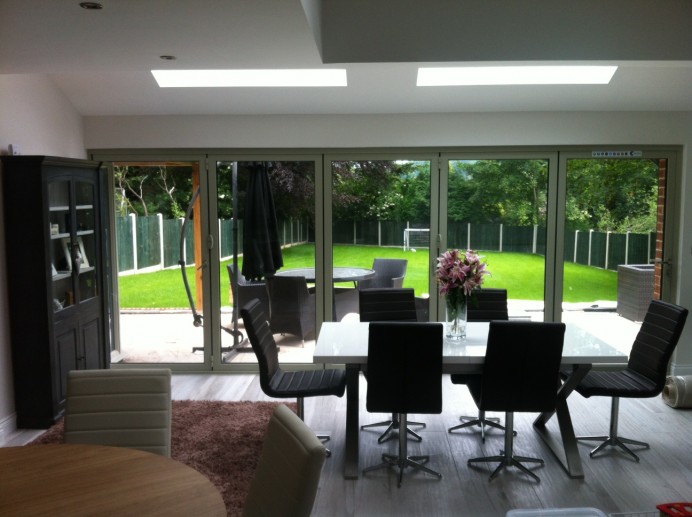 A bifolding door is a complex product. Sophisticated engineering, great design and top quality hardware all work together to create a door that can swing, slide and fold. For this reason a bifold is a far more complex product than a typical hinged or sliding patio door.
Basfords are bifolding door experts and we've worked with many different types of bifolding doors over the years. As well as the components that go into making a great bifold, precision installation is also very important.
Why aluminium is better for bifolding doors.
Our bifolding door range is made out of aluminium. This is the ideal material for a product such as a bifolding door. Whilst PVCu and timber doors are of course available, time after time aluminium has proven itself to be the best for folding doors.
Architects, designers and even other professional window companies like us all acknowledge that for bifolding doors aluminium is best. But why?
If you compare an aluminium bifolding door with PVCu side by side, the first thing you'll notice is how much slimmer the frames are. This is important because most of the year your doors will be closed. With so many leaves all together in the closed position, you want to have as much glass area as possible.
Aluminium Bifolds. Wider, Taller, Better.
Aluminium is widely used in commercial buildings. This is because for over 30 years we've known that aluminium is slimmer and stronger than other materials.
This advantage used commercially is now a benefit in the home. Aluminium bifolding doors can be made taller, wider and larger than their PVCu counterparts. The inherent strength of aluminium, coupled with its smaller profiles also brings other advantages to bifolding doors.
Other advantages of aluminium for bifolding doors.
Better looking door hardware. Study a PVCu bifold next to an aluminium door and you'll notice that the hardware used on aluminium bifolding doors is always smaller and more discreet. This makes for a more aesthetically pleasing door.
The strength of aluminium profiles means that less bulky hardware can be used. Often the hinges on a PVCu door are face applied and large because they are being fixed to a weaker profile overall.
Lower door thresholds. The all important bifolding door threshold is also smaller and slimmer. With a PVCu door this tends to be far thicker meaning a greater step over.
Less thermal expansion. All materials expand and contract in the heat and cold. However PVCu expands roughly two and a half times more than aluminium.
Therefore if your PVCu bifolding doors are on a south facing elevation and even painted in a dark colour these are prone to operational issues because of thermal expansion. It is well known amongst professional bifolding door installers that PVCu doors on hot days can stick through thermal expansion and be quite difficult to open and close.
For colour, aluminium is better.
Aluminium brings other advantages too and especially with colour. Current trends have moved away from traditional white doors. Shades of grey, black colours, even metallic finishes are hugely popular with bifolding doors today.
The polyester powder coating process used to colour aluminium has been used for over 40 years. It has proved itself not only the most durable but also the best.
Look at any foiled product and often this foil cannot adequately coat the many grooves, upstands, and recesses found in a typical door or window profile. This is evident when you open a door or window and look down at the hidden surfaces. Often these are bare with a foiled product.
Powder coating has the facility to property coat visible and unseen faces of the profile better than any foil.
Aluminium therefore gives you the widest choice of colour, the most durable paint finish and even the choice to have different colours inside and out.
The other advantage of powder coated aluminium is that doors can be custom painted to suit their environment. For example you may have your doors in a swimming pool environment where chlorine is in the air. Your doors may be fitted in a coastal, severe weather or other exposed location. Powder coating can be enhanced to provide greater protection in these and other environments.
Basfords.  Providing the very best in aluminium bifolding doors.
The Origin, Schuco and Warmcore bifolding doors we offer are some of the best you can buy. Both these market leading products not only benefit from the slim lines and strength of aluminium, but also from the colour choices.
We give you a choice of bifolding doors in aluminium so you can see the differences between our products and the benefit of each one.
Visit our showroom to view our range of aluminium bifolding doors installed in virtual environments. You'll find doors installed as a room divider, as part of an Orangery and of course as stand-alone bifolds.
Our expert staff are on hand to explain each product and to help you make an informed buying decision. We look forward to welcoming you.