You've made the wise decision to improve and add value to your home with some of the finest bifolding doors you can buy. Why not complement these with our range of blind and shading solutions?
Bespoke blinds for bifolding doors
At Basfords we offer a selection of blinds and integral glass blinds. These work to provide privacy and shade when required to further add to the enjoyment of your bifolding doors all year round.
We offer the very latest in technology, design and innovation. Choose from our range of bespoke Origin automatic fabric blinds with a silent smooth operation.
Alternatively we offer a choice of latest technology integral glass blinds housed within the panes of glass in your doors. The ultimate in technology and style .
The advantages of blinds for bifolding or sliding doors
A bifolding door floods your home with natural light, a feeling of space and creates that wonderful open aspect to your garden, terrace or patio.
Depending upon your property and the location of your bifolding doors, there may be times when you require shading, protection from the sun or privacy.
Perhaps you live in a terrace property or one with an overlooked garden and wish to have privacy in the evenings. Alternatively you may be having one of our quality door products installed in a play or study area and need comfort form the sun.
Our range of fabric or integral glass blinds provide flexible solutions. All offer fantastic shade, privacy and comfort. They're specially selected not to detract from the wonderful lines and aesthetics of your bifolding doors but rather to be a part of them.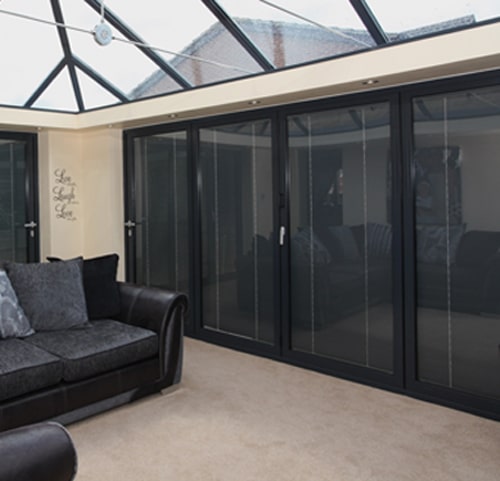 They add a real touch of class and style to your room with a choice of manual or automatic operation, colours and styles.
You can fit our range of blinds to bifolding doors, sliding doors, fixed or opening windows. Whatever you choose we guarantee some of the finest door and window blinds you can buy. And don't forget that unlike after-market blinds these are designed from the outset for doors .
You can see our exceptional door blinds in our showroom installed in full size doors. Contact us today on 0115 895 4948 or come in and see us.